BINGO Road Service
Road Service during Breakdowns
Summary of Car Trouble & Services
Let our professional staffs promptly assist you on the following car troubles: "Battery gone dead after forgetting to switch off the headlamps…" or "Accidentally locked the doors with the keys in the car…". We also provide towing assistance during car breakdowns. Our tow truck will transport your car to your designated workshop.
Member's Privileges
On Site Emergency Services
Key Unlocking

When your car is locked from the inside, we preform Key Unlocking services on site.

Changing to Spare Tire

When you get a flat tire, we preform spare tire changing on site.

Dead Battery Jumping

When your battery is dead, we preform battery jumping via cable to start up your car on site.

Refilling of Gas (Petrol)

When your car runs out of gas (petrol), we will refill up to 10 liters on site.

Other Light Repairs

We will perform emergency light work repairs on site.

Towing Services

When your car breaks down, we will tow your car to your designated workshop.
Service Introduction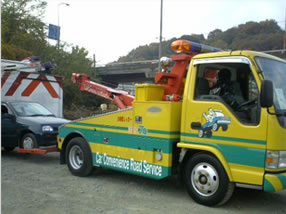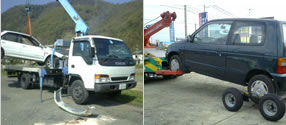 We provide prompt car trouble services during breakdowns or accidents.
Our tow truck service will tow your car to the workshop or to your designated destination.
BINGO Road Service
1564-1
Kawaminami, Kannabe-Cho,
Fukuyama-Shi,
Hiroshima-Ken, Japan 720-2124
Map
Service In Japan Only
0120-69-3310
TEL 084-962-3515
Sent Inquiry