Dear Japanese car lovers,
The 42nd Tokyo Motor Show held will held on December 3rd to 11th, 20011 (Public viewing).
The show venue for the previous years were held at Makuhari Messe convention center but this year's Motor Show, it will be held at a new venue namely, TOKYO BIG SIGHT.
Another wonderful  news that the show provides free shuttle bus service from Tokyo station to the venue at 5 to 10 mins intervals!!!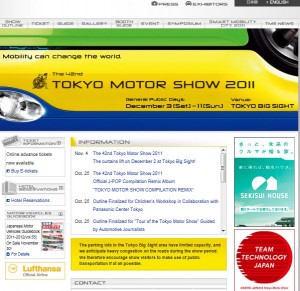 URL: http://www.tokyo-motorshow.com/en/
Drop by BINGO-ATI if you have a couple of days to spare!
We are located at Hiroshima Prefecture's Fukuyama City.
It takes about 3 hour by Shinkansen from Tokyo but Fukyama City is
worth visiting!
http://www.fukuyama-kanko.com/english/index.html